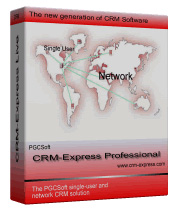 CRM-Express is the latest in CRM (Customer Relationship Management) software from PGCSoft. CRM-Express is the central integrated application from which you Manage Information, Communication, Contacts and Sales. CRM-Express outperforms rival CRM products in terms of cost, features, speed and ease-of-use. It is simply the best CRM software solution for contact, prospect and customer management for individuals and small to medium sized companies. With CRM-Express you can create and manage quotes, orders and invoices. No specialized knowledge is required to run or install the CRM-Express software.
Some outstanding features:
Address Book
View and edit all communications with a contact immediately including emails sent and received
Changes made to a contact is immediately available to all users on the network
All changes made via synchronization is immediately available on the network
Any number of custom fields can be added
Auto-dial from any contact number
Communicate via Email, Fax and SMS. Store communicated messages by contact for easy retrieval.
Email
Synchronize email with computers not always connected to the network
Advanced set of rules allow you to
Parse email messages to CSV files
Auto-add new contacts to email lists
Auto-remove contacts from email lists
Auto-reply with templates
Auto-create new contacts from email messages
Share email – email changes are immediately available to all users
Manage email lists
Downlaod PGCSoft CRM Express Professional 2016 5.1.0