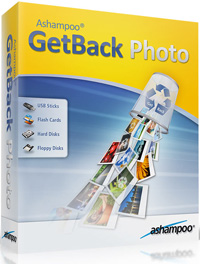 Photos are full of memories and often have a priceless, sentimental value. Especially then it is painful, when one realizes that the digital photos of the own wedding, pictures of the children's births or of the last holiday are gone and that there is no backup.
These are some reasons for the loss of digital photos :
Photos are deleted accidentally
The memory card of your digital camera is faulty
A USB flash drive was formatted or is defective
The memory card of your smartphone was deleted
The file system is corrupted
PDF or Word documents containing photos are deleted
With Ashampoo GetBack Photo the loss of digital photos doesn't have to be permanent. The program enables the quick recovery of photos from different storage devices in just a few steps.
In contrast to many conventional undeleter programs, Ashampoo GetBack Photo recovers not only photos that were deleted "normally", but also images from storage devices that have already been formatted.
Did you know that the chances of a successful recovery are becoming increasingly smaller the more data is written on or deleted from your external hard disk drive and USB flash drive!? Download Ashampoo GetBack Photo now, be prepared for any emergency and recover your photos before it's too late!
Program features :
Recovery of deleted or damaged image files
Scan of all storage devices in the system
Photos might even be found, after the storage device was formatted
Metadata is also recovered, e.g. EXIF and IPTC
Support of all common file formats, e.g. JPG, PNG, BMP, GIF, RAW
Photos are also found in file formats such as PDF and Word documents
Display of recoverable photos as thumbnails
Download Ashampoo GetBack Photo 1.0.1