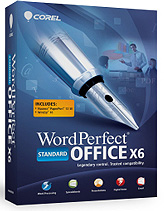 A legend among office software for over 30 years, Corel® WordPerfect® Office is trusted by millions of home and business users as an all-in-one office suite. WordPerfect Office X6 continues that tradition, offering the control, compatibility and power you need. Experience unmatched compatibility with support for over 60 file types, including the latest Microsoft® Office formats. Enjoy powerful built-in PDF capabilities, collaborate using integrated software and work smarter and faster using all-new features and classic WordPerfect tools. Take control with WordPerfect Office X6–the legendary office suite designed for today's home and business users.
More file formats :
Microsoft® Office Compatibility
Open, edit and save Microsoft® Word, Microsoft® Excel® and Microsoft® PowerPoint® files, including the latest OOXML versions (.docx, .xlsx, .pptx).
Support for More Than 60 File Formats
Famous for its unrivalled file format support, WordPerfect Office X6 lets you work with even more files than ever, with support for over 60 individual formats. Whatever the file, WordPerfect Office has got you covered.
Open Document Format (ODF)
Open and edit ODF files, an XML-based format used for spreadsheets, charts, presentations and word processing documents.
Features :
WordPerfect Office X6 brings more collaborative tools, more PDF capabilities, more file-sharing options and more ways to get the job done quickly and easily. Create high-impact documents, spreadsheets, slideshows, email, videos, PDFs and more–plus take advantage of new built-in features and added applications. Get more out of your office suite, with WordPerfect Office X6.
Multiple Monitor Support. NEW!
Take your productivity to the next level. Edit a document on one monitor and let someone else instantly view it on a second monitor. For added functionality, open multiple files across multiple monitors to more easily manage a large volume of files.
Windows® Explorer and Microsoft® Outlook® File Previewing. NEW!
Want to view a file before opening it? Now you can with WordPerfect. Simply select a file in Windows Explorer and Microsoft Outlook and choose from a rich set of right-click options directly in the preview panel. Save time by finding the information you need quickly and easily without having to open files in their native applications.
Reveal Codes
A classic feature WordPerfect users have come to know and love, Reveal Codes allow you to take control of all your document formatting. Whether you're creating a document from scratch or copying and pasting text from various sources, experience hassle-free formatting with Reveal Codes. To further customize your document, simply double-click any code in the Reveal Code window to make advanced alterations to a document's settings and styles.
Web Services Integration
Gather up-to-the second data from the web and then automatically update a document with that information whenever you open it. For example, create a report with updated stock prices, send out a real estate brochure that pulls in new MLS listings or publish daily weather reports. Bring the power of the web to all your documents with WordPerfect Office X6.
Reference Center
Get the most out of your office software with built-in learning resources and support. WordPerfect Office features an easy-to-access help system that puts tips, tutorials and answers right at your fingertips. Whether it's information on how to use a specific feature or helpful information for creating eye-catching documents and presentations, WordPerfect Office offers all the support you need to get the job done right.
Redaction
Black out sensitive or confidential information and ensure that text cannot be retrieved or revealed. This versatile feature can also search a document for words and phrases to hide and automatically apply redaction marks. Redacted files can even be saved to .doc, .pdf or .wpd formats, keeping your information safe and secure from prying eyes.
And more…