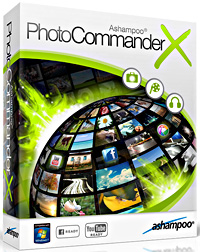 Ashampoo Photo Commander offers the perfect mix of features to manage, edit, present and optimize your digital pictures. The program provides you with a quick and straightforward management of your photo collection including options to create groups, tag pictures and put together virtual picture albums. Assign for example the name of your last travel destination (tagging) to your holiday pictures. This way you can later find all pictures you took at that destination very fast. Be creative and edit your digital pictures according to your wishes.Optimize photos with one click, remove red eyes or use different effects, like color changes, for your image editing. Turn your most beautiful images into oil paintings, create a calendar with your own pictures or a personal invitation with a funny picture of the last party. Photo Commander 10 offers lots of new features and improvements.
Among other features there is the new dual-view modefor the comparison of an original picture and that picture while editing. Additionally, the optimization tools and video functions were improved, new effects were added and lots more. When handling your digital pictures you'll never want to do without Ashampoo Photo Commander 10 again.
Ashampoo Photo Commander Fetaures :
Miniature view with grouping function. With the grouping function in the improved miniature view you can get a better overview of your pictures by filtering them according to certain terms (tags), model of the camera, file format etc.
Tagging. You can now tag your photos, this means that you assign certain terms to your photos. These will be saved to the IPTC meta data and simplify for example the detection or grouping of pictures.
Batch processing. Batch processing significantly reduces the amount of effort when editing photos. You can convert several pictures into a new format at once or apply effects to a bunch of pictures.
Editing and optimization of photos. In the quick-fix mode you can optimize a photo with one click, adjust contrast and colors, add effects, resize the photo, remove red eyes etc. Furthermore, objects such as speech bubbles, shapes or arrows, can be added in the editing mode.
HTML albums, slideshows, collages… Stunning HTML albums, slideshows (with music), collages, calendars, frames for pictures, greeting cards, photo mixes and TIFF multi pages of your pictures can be created in next to no time.
Audio and video. Audio and video collections can be managed just as easily as picture collections. Additionally, the program offers an integrated playback function so that you can play all your multimedia files with Ashampoo Photo Commander 9.
Burn discs, send e-mails and create PDFs. With just a few clicks photos can be burned on CD, DVD or Blu-ray Disc, send in an e-mail or be exported as PDF.
Import from cameras and scanners. With the import tool you can select and import pictures directly from your digital camera or a scanner. This tool also enables the automatic rotation of photos, if the digital camera provides this information.
Skins and plug-ins. Use the included skins to give your Ashampoo Photo Commander 9 a personal look. Plug-ins for handling additional file formats are supported.
New features and improvements in Ashampoo Photo Commander 10 :
Improved image adjustment with a new gradation curve tool, histogram and improved controls
Repair tool
Focus effect tool
Flood fill tool
Upload pictures or photo albums to Facebook, video sharing sites, Picasa etc.
Improved printing for multiple copies of an image on one page
Faster program start up
Less memory consumption
Accelerated photo browser
Download Ashampoo Photo Commander 10.1.2