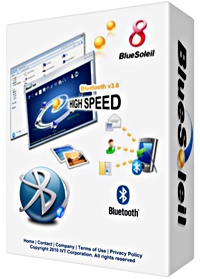 BlueSoleil is one of the most popular Bluetooth PC software in the industry. Due to its great features, that are innovative, very easy-to-use, and also interoperable, it has accumulated order of 25 million copies by the first quarter of 2008 around the world.
Here are some key features of BlueSoleil
· Support VoIP;
· Transfer files from/to mobiles phones;
· Call your contacts though Skype with Bluetooth headset;
· Wireless access Internet anywhere, anytime, even on moving;
· Listen to music stored in the PC using a Bluetooth wireless headset anywhere in the range;
· Push pictures from a Bluetooth Digital Camera to the PC without any cable connection;
· Print a file using a Bluetooth printer even in another room without any cable connection;
· Use Bluetooth wireless keyboard and mouse to control the PC;
· Exchange or synchronize personal information, name cards etc with other laptops, PDAs or mobile phones;
· Support Windows muti-user.
Whats New :
Updates: official site does not provide any info about changes in this version