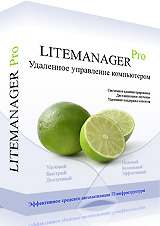 LiteManager Pro — remote access software for remote administration of computers over the Internet or remote control in a local network, for distant learning, providing remote support to users and supervising work activity of employees.
LiteManager — one of the best programs for remote administration of Windows-based computers. The program allows working simultaneously on several computers in different remote access modes. A wide range of tools for administration makes LiteManager an optimal solution for managing organizations of any scale.
Remote desktop — the primary operating mode of LiteManager that offers a wide range of functions and settings options, for example: you can turn on economy mode and as a result consume 5-10 times less network traffic. You can remotely control a computer in different terminal sessions with the ability to switch between them if needed, as well as to lock a computer, sync the clipboard and much more.
Key Features.
Remote control / Remote viewing.
File Transferring.
Remote task manager
Power management.
Text chat.
Telnet.
Device manager.
Screen recorder.
Network map.
Connecting with a dynamic IP.
Remote installation.
Server search.
RDP.
Registry editor.
Internet and Networks utils.
Remote installation.
Callback connection.
Cascade connection.
Network map.
Server search.
Event log.
IP Filter.
NoIpServer.
Other features.
Capture sound.
Drag & Drop.
Support multimonitors systems.
Locking the screen and keyboard.
Protection options with a password.
Support system clipboard.
Downlaod LiteManager Pro 4.9 Build 4930