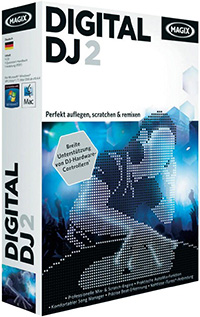 MAGIX Digital DJ 2 is a DJ program that offers everything you need to intuitively play, scratch and remix.
Simply create perfect DJ sets and bring your own music collection to life with just a few clicks!
Whether your songs come from iTunes® or from your computer's hard drive, simply drag & drop your favorite songs onto the deck or into the playlist and you're ready to go – either on a PC or a Mac.
And if your DJ set is missing a song or two, MAGIX Digital DJ 2 will automatically show a list with similar tracks thanks to the unique mufin technology.
This way you'll always find just the right song!
Highlights at a glance:
Supports a wide range of DJ hardware controllers.
Easy Song Manager with cover view.
Snap & Quant function for perfect loops.
Twice as many samples in the included 8-slot sampler.
Professional mix & scratch engine.
Precise beat recognition.
Useful AutoMix function.
Seamless iTunes® integration.
Sound-based music suggestions with mufin technology.
Mix effects for real DJ sound.