easyHDR Pro without question, produces much Better results than I was ever able to produce with Photomatix. Over the years I have tried a lot of editing programs. EasyHDR has outperformed them all. The results look more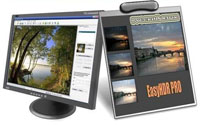 like what I saw with my own eyes when I snapped the shutter. The Best shadow detail, more natural looking color and accurate color, too! The results are like night and day to Photomatix. EasyHDR is more reasonably priced. And for the quality of the edited image, less costly than nearly all editing software.
Easier to use. Produces the finished edit in much less time. I have not found a program that will produce a better picture to print, of Landscapes, Nature & Wildlife, Portraits, Architectural and Interiors. Photomatix is just not this versatile. Considerable time has been spent making comparisons, as I feel it is my responsibility as a working photographer, to provide to my clients and customers, the Best Quality Image I can. And because I take pride my work, and I Enjoy photographing the Beauty that God has given us, and sharing these Joys with others!
Features:
• blend a sequence of photos taken at different exposure values into a … [ Read more ]