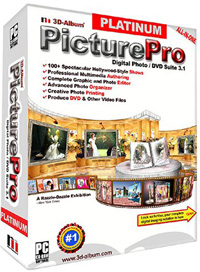 Complete Digital Imaging Solution for Professionals . Want to push your creative motivation to a higher level? PicturePro Platinum offers a number of professional authoring tools through which you can do even more amazing works.
Hot spot editor lets you define particular areas in an image to be engaged to take actions. Timeline editor provides experienced users the added control of accurate music synchronization. You have more choices to compose your photo album applications with advanced mixers.
Main Features :
100+ spectacular Hollywood-style Shows
Show, present, exhibit, animate, publish, walkthrough, and even design photo quiz games. This is not just another picture slide show! Only 3D-Album brings you an exquisite photo show with true shadowing, lighting, reflection, and motion blurs effects, and provides interactive control of the album in a true 3D world. People will think you had a Hollywood title designer at your elbow.
Professional multimedia Authoring
If you've ever wanted to create professional multimedia presentations with a sophisticated control flow, if you've ever thought about creating interactive training sessions or other digital content from your photos, if your goal is not just to get your job done, but get it done in a creative and unique way and get your audience hooked, the authoring tools included in 3D-Album provide the solution you need.
Complete graphic and photo Editor
Paint, draw, decorate, illustrate, edit, and even create photos like a pro with easy and automatic tools. This is an all-in-one photo editor with full-featured vector tools, and even a 3D composition tool to place photos on 3D objects.
Advanced photo Organizer
The 3D-Album Photo Organizer lets you categorize, annotate, describe, sort, search, group, batch process, and quick fix your photos via a set of efficient and powerful tools.
Photos brought into your computer are stored in files and grouped in different folders. 3D-Album does not require you to bring all of your photos into a specific place to be handled exclusively, but instead shares a common file structure with other software.
Creative photo Printing and Page Design Tool.
With hundreds of design templates including contact sheets, album pages, standard photo sizes, seamless and borderless printing, catalogs, calendars, greeting cards, CD/DVD disc labels, flyers, and many other special designs, you'll print like a pro, and with ease. Professional layout tools help you make precise adjustments and you'll never have to print twice.
The 3D-Album Photo Printing integrates a complete set of text, drawing, and creation tools that makes the 3D-Album not only a photo printing utility, but also a powerful page design tool that will significantly enhance your creativity and boost your productivity.
Produce DVD & other video files
Get your photos out of your computer and into your living room by creating DVDs* or Video CDs*. Mix multiple photo presentations on a single DVD disc or create karaoke DVDs using your own photo collections with stunning 3D effects. Imagine the movie you'll make…
The video capture utility embedded in the 3D-Album lets you convert your 3D-Album presentations into movie files in various formats.
Download 3D-Album Picture Pro Platinum 3