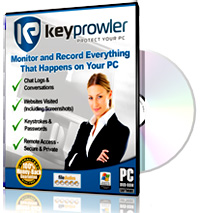 Everything is Recorded
KeyProwler allows you to record and control everything that happens on your computer and have it delivered to your email address daily – including applications used, time stamps, clipboard data and screenshots of the computer activities!
KeyProwler is truly an all in one keylogger solution. Start automatically watching every chat, monitor every website, and control it all easier than any other spy software on the market. No other spy software gives you the security of knowing you will be able to collect every screenshot and every keystroke with just the click of a button.
Every keystroke from popular chat, online email and social sites is recorded. Including Myspace, Facebook, Hotmail, Yahoo Messenger, MSN Messenger, AIM and any other programs, in addition to any website or program that is used.
When people want to download a quality keylogger, they turn to KeyProwler!
No Traces… No Tracks
Unlike other internet monitoring software, KeyProwler can't be noticed or uninstalled the typical way (Windows Add/Remove Programs). Buy The Full Version and use Stealth Mode, making KeyProwler 100% hidden, guaranteed.
Sets Up in Minutes
With simple one-click keystroke logging set up and access, KeyProwler Keylogger is perfect for the novice while giving extended tracking power to the IT professional.
KeyProwler runs on Windows 7, Vista, XP, and some older operating systems (does not work on Apple Macintosh). The trial includes all features for 7 days including Stealth Mode, and able to run silently and undetectable. KeyProwler is impossible to be seen or removed by your teenage kids, employees or spouses and is perfect for monitoring and protecting the ones you love. Download Keylogger here
Imagine being able to know every single thing that happens on your PC. Try KeyProwler Spy Software NOW for 7 days and no longer have to imagine!