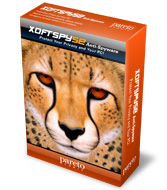 XoftSpySE Anti-Spyware 7.0 is easy to install and use. Its common sense interface puts the full features of this anti-spyware software in your hands. You simply choose the scan you want and this antispyware download goes to work. It will scan deeply to find all kinds of spyware and malware, threatening to steal your identity and credit card information, bombard you with advertising and monitor your online activities. As well, this antispyware download will help keep your PC running right by removing spyware and malicious code that can slow you down.
This anti-spyware software is feature-packed to protect you and your PC. An innovative Browser Helper Object Editor will remove all of those aggravating toolbars and other add-ons that just clutter up your browser.
XoftSpySE Anti-Spyware 7.0 also features a Startup Editor that lets you manage which programs automatically launch.
Features and benefits of this antispyware download :
Thorough anti-spyware scanning of your PC, including registry, files, folders and running processes
Removes wide variety of spyware, adware, pop-up generators, keyloggers, Trojans, hijackers and malicious code
Frequent updates from our ever-growing spyware database to ensure you are protected against emerging threats
Browser Helper Object Editor that blasts away unwanted add-ons that clutter your Internet browser
Advanced scheduling options, so you can automatically run any scan type you need, at any time you need
Startup Editor lets you disable unwanted programs from launching at start-up
Fast and easy to use