Transfer Stock between LoinFlow Inventory is inventory software designed specifically to help sm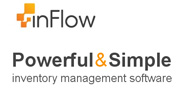 all businesses to handle sales, purchasing, and inventory management.
Speed up your operations, get a variety of reports to make better-informed decisions, and feel more in control of your business with inFlow. Best of all, inFlow is easy, intuitive, and flexible.
Keep your products organized with pictures, prices, and categories. inFlow can easily handle 10,000+ products on a regular PC.
inFlow can help you to:
Organize customer orders and issue invoices
Print pick lists, packing labels, and more
Track inventory on hand and movement history
Re-order stock from vendors
See reports on sales trends
Here are some key features of "inFlow Inventory":
Sales
Track Customer Information
Issue Sales Quotation
Handle Customers' Sales Orders
Pick, Pack, and Ship Products to Customers
Issue Invoices and Receiving Payments
Handle Customer Returns
Premium Edition:
The most powerful business tool.
unlimited products & customers
all 29+ reports
multi-user mode: read & write
separate user logins
restrict access rights
bill of materials & work orders
count sheets
customize document
phone, email, forum support
Download inFlow Inventory Premium 2.4.0.3