Niksoftware Dfine 2.109 gives you unprecedented control over exactly how much and where to apply noise reduction. This makes it ultra-easy to eliminate noise in your images while maintaining detail and sharpness, thus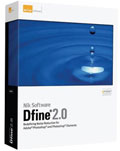 improving the quality of every digital photo you take. Dfine is designed to prevent the loss of detail other noise reduction tools often introduce.
What is Noise?
Virtually, all digital cameras inherently create unwanted imperfections known as noise. The amount or type of noise in an image typically depends on the quality and type of imaging sensor with which it was created.
Contrast (Luminance) Noise and Color (Chrominance) Noise can be individually present in an image or might be seen in the same image. Fast or high ISO speeds and low light levels can add noise to images, while some images might exhibit high levels of JPEG artifacts.
Introducing Dfine 2
Dfine 2 gives you unprecedented control over exactly how much and where to apply noise reduction. This makes it ultra-easy to eliminate noise in your images while maintaining detail and sharpness, thus improving the quality of every digital photo you take. Dfine 2.0 is designed to prevent the loss of detail other noise reduction tools often … [ Read more ]